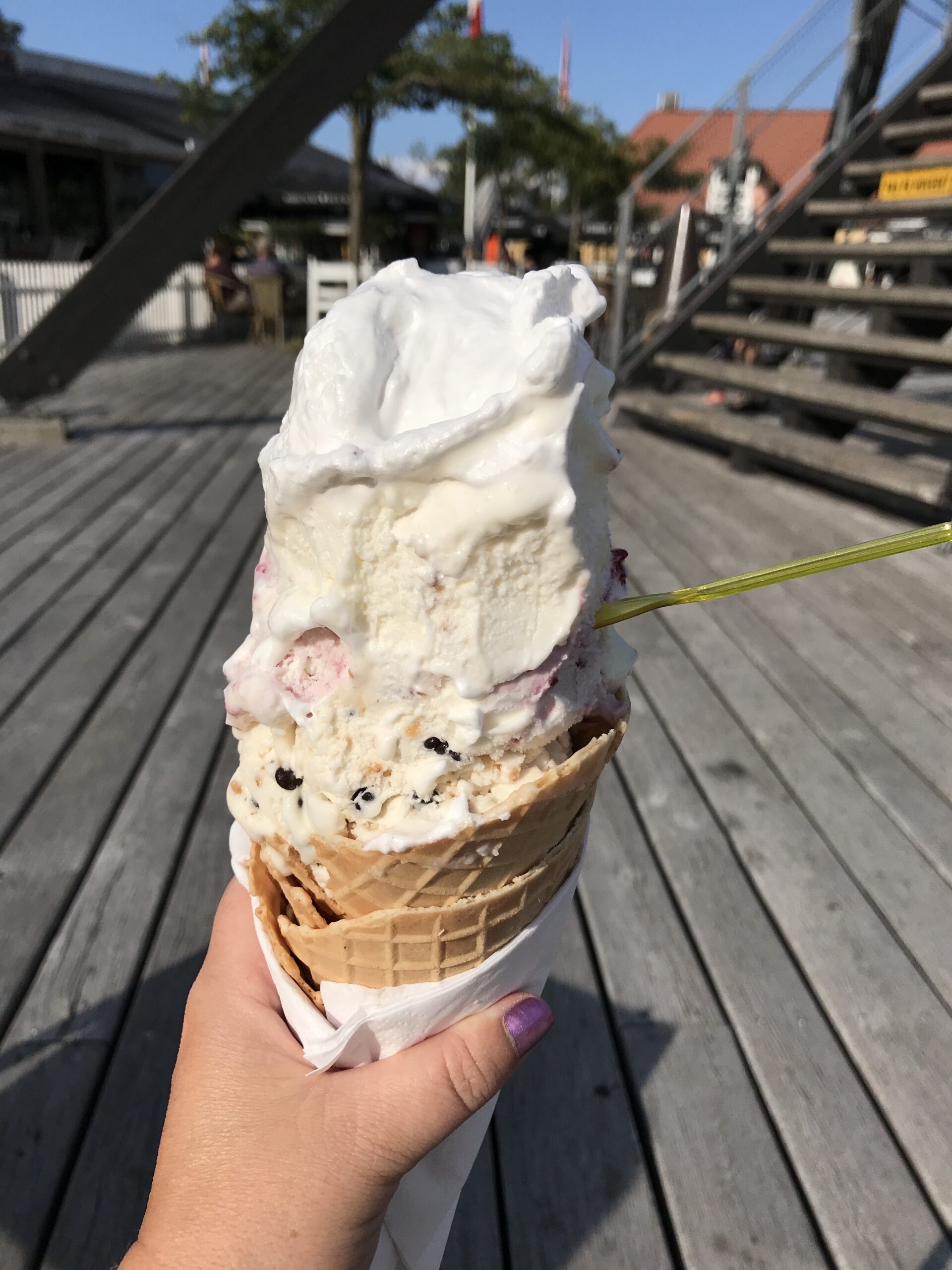 Sometimes I get a craving for Falsters best homemade ice cream. One of those with 7000 calories, which can replace an entire meal. Or two…
There is one specific ice cream shop I actually plan to visit on a regular basis, and that is Marielyst Is. And it doesn't hurt to skip lunch when you visit – they are not holding back when it comes the size of their homemade ice cream.

They have REALLY delicious homemade Italian ice cream!!
At Marielyst they not only make their own ice cream directly in the shop, but they also bake their own waffles. Kim R. is placed at the waffle bake machine right inside the door, and the delicious smells of newly baked waffles practically drift out through the door when you approach…. Ah! 
And their cherry ice cream… double ah!
Kim is a busy hardworking man because in high season he bakes all of 1100 waffles A DAY!
My problem arises when I have to choose, since they always have 15-20 different flavors. A good of them are sorbét ice cream (with perhaps a little less calories in?), and the selection varies each time – so check the board outside. It is a tough job to limit yourself to two or three scoops. 
 However two things are certain:
– There is almost always a line to the shop!
– You need to bring an empty belly if you have to work your way through three scoops!
I already ate a good deal of the ice cream on the picture already, and – as you can see – there is still a good part left… The ice cream is both excellent and comes in large sizes. It is without doubt the best ice cream on Falster. Yummy!
And I am sure I will get very healthy indeed with all the fresh berries they used… and full of vitamins they must be, too!
As it is I am not the only one that think the ice cream shop in the square in Marielyst is the best ice cream shop in Falster. Actually Marielyst Is won the title as best ice cream shop on all the Danish islands in 2020.
And it is fully deserved, since it's not only the ice cream and the waffles that are good – so is the service.
And where do you find Falster's best ice cream?
 You have to go down to the southern part of Falster, to one of the largest summerhouse areas in Denmark called Marielyst. Here you can find one of Denmark's best and most child friendly beaches (20 km of beaches!), and right where you walk down to the beach there is a cosy area filled with restaurants, bars, shops and ice cream shops – this is Marielyst "downtown". Here you can find live music in the summer and a laidback holiday atmosphere.
In the middle of the square there is a high wooden tower, located right in the middle of Marielyst city, and next to it you find Marielyst is.
As mentioned, all you have to do is follow the smell of waffles or look for the long line of ice cream lovers. I will probably be somewhere in that line!
You can follow Marielyst Is on Facebook her and on Instagram here.
Read the other blogs on the Falster Blog.